About
Pastor Michael Heath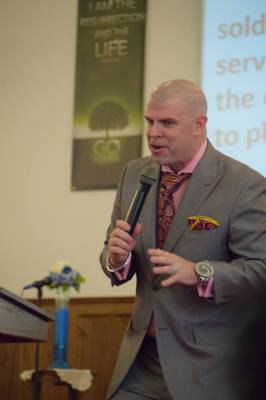 Preaching since the age of 19, Pastor Heath quickly became known for his remarkable ability to effectively use his "street smarts" to break down the Word of God to those who otherwise might not comprehend the Bible. Pastor Heath has always been on the cutting edge and strongly believes that every single soul is essential. Growing up in an environment filled with secular activities, Pastor Heath can easily relate to struggles and strongholds within people and genuinely believes that there is never a situation or broken heart too difficult for God to mend.

After several years as Sr. Pastor of an established church, God spoke to Pastor Heath about beginning a new ministry, which would be called Living Waters , with his wife (Lady Crystal Heath) --- a fresh ministry that would render an awesome vision to grow a church where people are taught the unadulterated Word of God while given examples of forgiveness, excellence, worship and unconditional love. Living Waters was launched in February of 2012. Through Living Waters it is Pastor Heath's desire is to create an atmosphere where the worship is exciting, the music is contemporary yet heart piercing, the message is relevant yet convicting and the dress is come as you are! With over 25 years of ministry experience, Pastor Heath has been a guest lecturer at Biblical Seminary, University of Vally Forge and at various conferences throughout the country with the goal of equipping men and women with tools needed that will impact the lives of those both inside and outside of the church.

Pastor Heath attended Philadelphia College of the Bible and holds a Master of Divinity degree from

Biblical Theological Seminary where he is currently pursuing a Doctor of Minister degree.